Saturday, November 27, 2010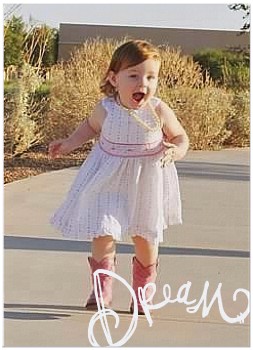 Dream Sketch 5x7 folded card
Posted by

JJ Mom
at 4:52 PM
No comments:

Monday, November 1, 2010
I'm such a bad blogger...here are some updates:
Sadie has been busy the last few months! She is becoming a little girl and is no longer a baby. We've been discussing when we should begin potty training and when we should move Sadie to a big girl bed. We are just watching Sadie and waiting until the time is right to move forward with her next big milestones.
Sadie is now jumping- she jumps everywhere! It was really amazing to watch her learn how to jump. At first she would try to jump, but would not leave the ground. Eventually, she did leave the ground…about a centimeter and now she can jump really well off the ground. She is so determined. She wanted to jump and she worked on it until she could.
Sadie is also talking a lot more now. Today at Gloria's at the end of lunch she said "I'm done." She also can say pig and when you ask her to say Halloween she says "Weeeen". It's so cute! Some of the other words she can say are: eat, apple, milk, cow, shoe, sock, up, that, this, cat, dog, frog, green, yellow, red, ball, bear, car, and outside. We are still working on Grandma and Grandpa- right now she says Mamama and Papapa- which is actually different from what she calls Keith and me (dada and mama).
Sadie now sings along in the car to certain songs. Keith has a recording of Summertime by Billy Stewart and she loves it! We listen to it all the time just so we can hear her sweet voice.
We now have grass in our backyard – thanks to my dad and my brother. The grass is beautiful and Sadie absolutely loves to play outside. She has a sandbox (Thanks Carrie!) and Sadie will bring the sand toys from the sandbox to another place in the backyard one at a time. Once they are all in a new spot she will take them back to the sandbox one at a time. When it's time to go in we say, "Time to clean up." And to my surprise – every time- she picks up all of her toys and puts them in the sandbox and goes in. Let's hope she will always be a good listener.
We've become Zoo members and we are enjoying going to the zoo. It took us 3 visits to see everything the zoo had to offer. The last time we went we went to the children's area. We saw Koala bears and Sadie was able to pet a goat. She really liked that. We didn't see any barnyard pigs, but there were warthogs with mohawks! The zoo also has a great playground- it's fenced in- except for the entrance so I was able to let Sadie run free without having to worry too much about her running off.
Since the zoo did not have farm pigs – we went to a farm for a fall festival. The farm had three pigs, but they were sleeping when we were there. Sadie liked them, even though they did not do anything. Sadie also got to run through a maze for little ones, jump in a jumping house, play games, and look at pumpkins. We had a great time and we really enjoyed the beautiful weather. Sadie walked all around the farm and never got tired.
Halloween was so fun. Sadie was a 50's girl with a poodle skirt tutu. I actually made her costume. I am quite proud of it! She loved flouncing around in her big skirt. We trick or treated at a few homes around my parents' house and then came home and Sadie hit the hay and went straight to sleep.
Now it's November and holiday season is in full swing. I am getting ready to plan for Sadie's birthday party. Her 2nd birthday will be here before I know it.
Sadie is always silly!
Posted by

JJ Mom
at 8:40 PM
No comments: